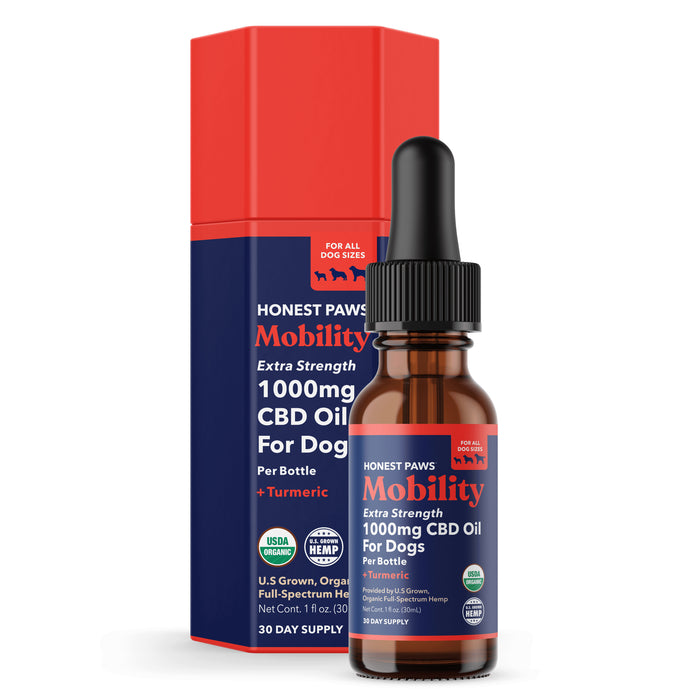 Dog Jocks | Honest Paws - Mobility - 1000mg CBD Oil for Dogs
Save

40

%
Save

40

%
Original price
$99.95
-
Original price
$99.95
Healthy Joints Naturally
As you may know, hemp with naturally occurring CBD has taken the pet care world by storm. And for good reason. 
Thousands of delighted pet owners are discovering how hemp oil with naturally occurring CBD can help calm nervous pets, relieve occasional aches and discomfort, and provide great comfort in life.
So we've developed a calming full-spectrum hemp oil that combines naturally occurring CBD with turmeric to help relieve occasional stiffness associated with daily exercise or normal aging and support the function of your dog's joints.
Is A Higher Potency Level Right for My Dog?
Now let's discuss the benefits of a higher potency level.
There are two main reasons why pet parents tend to opt for a higher potency level for their dog or cat:
It's significantly more cost-effective

It provides their pet with a stronger potency of CBD, which can be great for special cases
For example, the 125mg potency level of Mobility CBD Oil for Dogs is $39.95. Essentially, you'll pay $39.95 for a 30-day supply of CBD, with your small dog receiving 4mg of CBD per day.
However, the 250mg potency level of the same CBD oil is only $49.95. This means you'll pay $49.95 for a 60-day supply of CBD, since each full dropper from this bottle (1mL) contains 8mg of CBD—double the amount! Essentially, for just $10 more, you're getting an extra month of use out of the CBD! (When administering the CBD, you would simply give your small dog half a dropper, 0.5 mL, instead of the full dropper, in order to meet their 4mg dose).
The savings increase as you go higher up on the potency scale, with savings in some cases being as high as 50%!
For many, adding CBD oil to their dog's healthcare regimen is meant to be a long-term addition, so opting for higher potency levels no matter your dog's size gives you the best bang for your buck.
Another reason pet parents opt for higher potency levels, though, is to provide their dog with an 'extra-strength' dose of CBD (while still saving significant amounts of money in the long-run).
For instance, a dog dealing with an injury or with post-surgery discomfort may benefit from an extra-strength administration of CBD. Dogs requiring support with their mobility and those that might be experiencing joint stiffness associated with normal aging may also benefit from a stronger potency of CBD.
Again, it's all about slowly introducing CBD into your dog's routine and observing them closely to see what works best for their specific case. You always want to strike the perfect balance between what keeps them both happy and healthy while also supporting their needs.